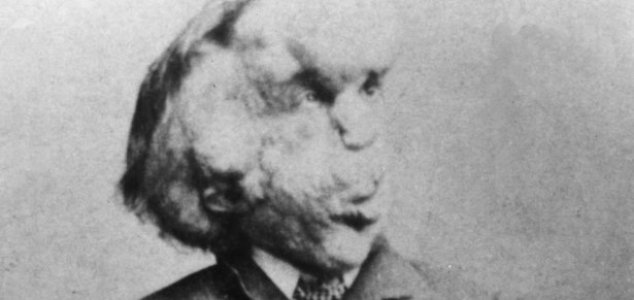 The precise nature of Merrick's condition still remains unclear.

Image Credit: Public Domain
The long-lost unmarked grave of Merrick, who suffered from terrible deformities, has been found after 130 years.
Born in 1862, Merrick showed no signs of physical deformity for the first few years of his life.
As time passed however, he started to develop abnormal growths across several parts of his body and in particular, his head, which became so riddled with growths that he could barely speak and the immense weight of his skull prevented him from being able to sleep lying down.
His condition and appearance would lead him to become a popular 'curiosity' at shows and exhibitions where he was billed as the 'Elephant Man' and was described as 'half-man, half-elephant'.
It was a difficult life and one that would see him mocked and shunned on a daily basis.
Sadly, Merrick died at the age of just 27 on April 11th 1890. An examination revealed that he had died of a dislocated neck due to the immense weight of his head.
After his death, his skeleton was preserved for medical research while his soft tissues were buried. Determining the precise location of his grave however has long since proven a challenge.
Now though, following an extensive search, author Jo Vigor-Mungovin believes that she has finally located Merrick's final resting place in the City of London Cemetery.
The key to finding the grave was the realization that Merrick's remains were most likely sent to the same place as the victims of infamous serial killer Jack the Ripper.
"I decided to search in an eight-week window around the time of his death and there, on page two, was Joseph Merrick," she said. "The burial is dated 24 April 1890, and Joseph died on 11 April."
"It gives his residence as London Hospital, his age as 28 - Joseph was actually 27 but his date of birth was often given wrong - and the coroner as Wynne Baxter, who we know conducted Joseph's inquest. Everything fits, it is too much to be a coincidence."
Source: BBC News | Comments (18)
Tags: Joseph Merrick