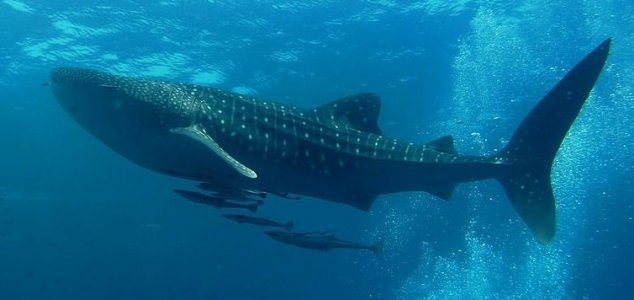 Whale sharks can potentially live for over 100 years.

Image Credit: CC BY-SA 4.0 Abe Khao Lak
Scientists have found a way to determine how old whale sharks are using the fallout from atomic bomb testing.
Measuring up to 62ft in length, these giants of the deep are regarded to be the largest living fish on Earth as well as the largest living nonmammalian vertebrate.
Given their slow rate of growth and extensive lifespan however, determining exactly how long whale sharks live for has long proven a challenge, but now scientists studying these gentle giants have found a way to effectively date a whale shark by measuring the amount of carbon-14 in its vertebrae.
This naturally occurring radioactive element is also produced by nuclear explosions, meaning that by comparing the sharks' carbon-14 levels with data regarding atomic bomb testing in the 1950s and 1960s, it was possible to come up with a way to determine the age of any given individual.
"These elevated levels of carbon-14 first saturated the atmosphere, then oceans and moved through food webs into animals, producing elevated levels in structures such as the vertebrae of whale sharks," said lead study author Joyce Ong of Rutgers University in New Jersey.
By applying this technique to the remains of several long-dead whale sharks, the researchers found one shark that was 50 years old, however it is likely that they can live much longer than that.
"We still can't say for certain if these sharks live to be 100 years old," said study co-author Mark Meekan from the Australian Institute of Marine Science in Perth.
"But it now seems much more likely given that our largest shark was 50 years old at 10 meters (33 feet) in length and it is well documented that these sharks can get almost double this size, to around 18 meters (59 feet) in length."
Source: Reuters | Comments (2)
Tags: Whale Shark, Atomic, Nuclear