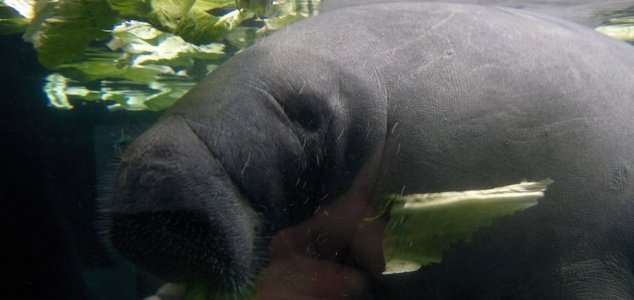 Manatees are a protected species.

Image Credit: CC BY 2.0 Chris Muenzer
Wildlife officials are investigating after the animal was found with the outgoing president's name written on it.
It seems that nowhere can escape the impact of recent political events in the US, as evidenced recently by the discovery of a manatee - a type of ocean-going mammal - with the word "Trump" deliberately etched into the algae growing on its back.
Spotted on Sunday in Florida's Homosassa River, the manatee did not appear to be injured, however harassing the species constitutes a criminal offense in the US and anyone found guilty of doing so potentially faces a jail sentence and a fine of up to $50,000.
The Center for Biological Diversity, which is a conservation charity, is offering a reward of $5000 to anyone who can provide information leading to the arrest of whoever was responsible.
"It's heartbreaking that this manatee was subjected to this vile, criminal act," said director Jaclyn.
"It's clear that whoever harmed this defenceless, gentle giant is capable of doing grave violence and needs to be apprehended immediately."
According to the US Fish and Wildlife service, Florida is home to around 6,300 manatees, however a combination of habitat loss and toxic algae blooms has been slowly reducing their numbers.
Source: BBC News | Comments (10)
Tags: Manatee, Trump