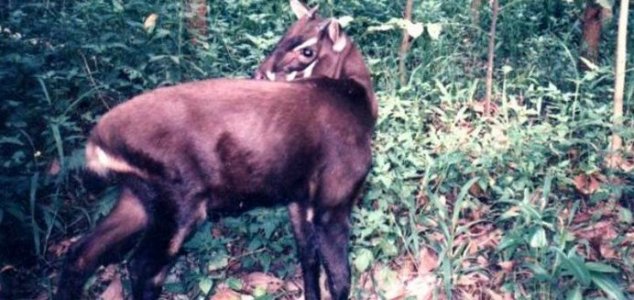 The saola is considered to be a criticially endangered species.

Image Credit: CC BY-SA 3.0 Silviculture
An incredibly rare species of ox that hasn't been seen for 14 years has turned up on a WWF camera trap.
The saola is an extremely rare antelope-like animal that lives in the forests of Laos and Vietnam. Discovered in 1992, the saola was the first large mammal species to have been discovered by science in more than half a century, earning it the nickname "Asian unicorn" due to its scarcity.
Over the last few years the animals seemed to have all but disappeared, leading conservationists to fear the worst. Incredibly however, despite there not being a single sighting in 14 years, a camera trap in the Annamite Mountains managed to pick up grainy black and white images in September of a live saola traipsing through the foliage.
"When our team first looked at the photos we couldn't believe our eyes," said WWF county director Van Ngoc Thinh. "Saola are the holy grail for south-east Asian conservationists so there was a lot of excitement."
The exact population numbers of the species has proven difficult to determine with estimates somewhere in the region of 300 individuals. With these animals teetering on the edge of extinction however it is only through the efforts of wildlife conservationists and forest guard patrols, who tirelessly remove illegal hunting traps and snares from their habitat, that the saola continue to survive at all.
Source: National Geographic | Comments (11)
Tags: Saola