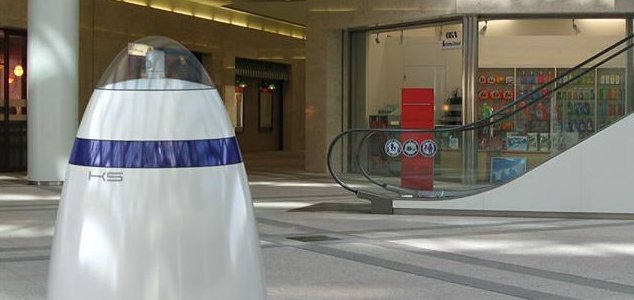 Coming soon to a mall near you ?

Image Credit: YouTube / Knightscope Inc.
Knightscope has invented a futuristic autonomous robot that is able to predict and prevent crime.
K5 might seem like a side project from the makers of RoboCop but it is in fact a genuine real world invention. Equipped with everything from night-vision to number plate recognition, K5 will be able to analyse its surroundings and alert the authorities if it finds anything suspicious.
Inventor Knightscope Inc. designed the robot to collect large amounts of information through an array of on-board sensors and to process it using a predictive analytics engine.
"Population growth and constrained government budgets render today's methods of fighting crime unscalable," said Stacy Dean Stephens of Knightscope. "The Knightscope K5 utilizes technology to push alerts to public safety professionals and the community providing a profound new layer of security and more efficient deployment of resources, saving both money and lives."
Initial deployments of the unit are scheduled to be carried out next year.
Source: UPI | Comments (18)
Tags: Knightscope, K5, Robot