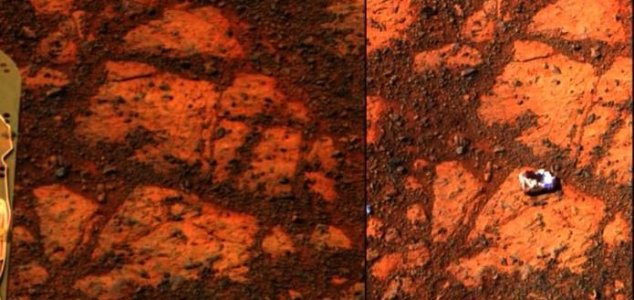 Before (left) and after (right) the rock appeared.

Image Credit: NASA
NASA's Opportunity rover has spotted a strange rock that seems to have appeared out of nowhere.
The rover had taken a photograph of the ground in front of it earlier this month, yet a second photograph taken a short time later appeared to show a peculiar doughnut-shaped rock in the middle of the frame that hadn't been there earlier.
Dubbed "Pinnacle Island", the strange boulder has perplexed mission engineers who have struggled to determine where it came from. "It was a total surprise, we were like 'wait a second, that wasn't there before, it can't be right. Oh my god! It wasn't there before!'" said lead scientist Steve Squyres. "We were absolutely startled."
Scientists have suggested that the rover could have pinged the rock in to the frame with its wheels or that it could have been thrown there by a nearby meteorite impact. An analysis of the rock has indicated that its chemical composition does not match that of rocks found elsewhere on Mars.
"I think it's something that we did... we flung it," said Squyres. "It obligingly turned upside down, so we're seeing a side that hasn't seen the Martian atmosphere in billions of years and there it is for us to investigate. It's just a stroke of luck."
Source: Wired | Comments (140)
Similar stories based on this topic:
Tags: Mars, Opportunity