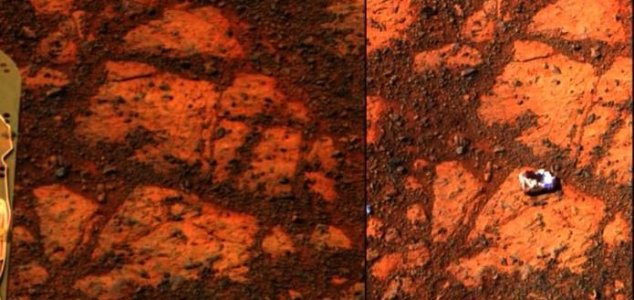 Before (left) and after (right) the rock appeared.

Image Credit: NASA
The rock caused quite a stir last month when it appeared out of nowhere in a photograph taken on Mars.
Dubbed "Pinnacle Island", the strange rock generated a significant degree of interest when it turned up in one of the photographs taken by the Curiosity rover a short space of time after a previous image of the same location showed no such object.
Some speculated that the rock could be evidence of geological activity, a fallen meteorite or even extraterrestrial life. At the time, author and researcher Rhawn Joseph even threatened to take legal action against the space agency on the basis that he didn't believe they had done enough to investigate it.
Now NASA scientists have conclusively identified the rock as just that, a rock, and believe that it was flung in to the frame of the photograph by the rover's wheels.
"Once we moved Opportunity a short distance, after inspecting Pinnacle Island, we could see directly uphill an overturned rock that has the same unusual appearance," said Opportunity Deputy Principal Investigator Ray Arvidson. "We drove over it. We can see the track. That's where Pinnacle Island came from."
Source: NASA | Comments (21)
Tags: Mars, Curiosity