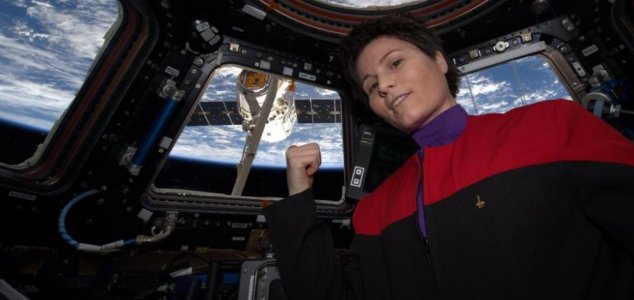 Cristoforetti points to the Dragon capsule outside.

Image Credit: ESA / Sam Cristoforetti
Samantha Cristoforetti did her best Captain Janeway impression for an epic orbital selfie this week.
The classic science fiction TV series Star Trek has no doubt played an important role over the years in inspiring generations of space explorers to not only look towards the stars but to venture out in to space for themselves in an effort to experience the final frontier.
Now ESA astronaut Samantha Cristoforetti, who is the first Italian woman in space, has celebrated all things Star Trek by donning the distinct black and red officer's uniform and capturing an image of herself pointing out of the space station's observation deck.
"There's coffee in that nebula'... ehm, I mean... in that #Dragon," she wrote on Twitter.
The quote is a reference both to an episode of Star Trek: Voyager and to the Dragon supply capsule outside which had been carrying a specially adapted espresso maker for the astronauts.
It is the first time that a uniform from the iconic TV series has ever been worn in space.
Source: CNET.com | Comments (16)
Similar stories based on this topic:
Tags: ISS, Star Trek