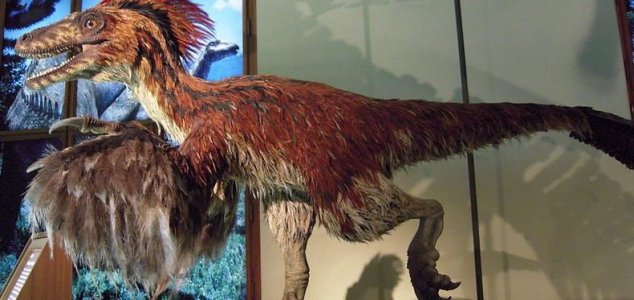 The lack of feathers on some dinosaurs in the movie has been a point of criticism.

Image Credit: PD - Domser
Palaeontologists have been quick to point out the flaws in this summer's follow-up to Jurassic Park.
While the latest movie in the popular franchise has been generally well received by audiences and movie critics alike, scientists who work on piecing together real world dinosaurs have been left less than impressed by some of the design decisions that went in to their on-screen counterparts.
The carnivorous velociraptors for instance, which have been portrayed as having the same smooth scales as their Jurassic Park predecessors, failed to be updated to take in to account the fact that in real-life the species would have most likely sported a plumage of colorful feathers.
"Nevermind all those fossils that demonstrate the presence of feathering in all birdlike dinosaurs, or the bony feather attachment knobs present on the arm of velociraptor," said author Darren Naish.
"Judging from the trailers, Jurassic World has opted to stick with scaly-skinned raptors, scientific advancement be damned."
Similar criticism has also been leveled at the pterosaurs in the movie which should have been more furry and were too small to have been able to pick people up off the ground.
Even the seagoing mosasaur was criticized on the basis that it should have been more cumbersome.
"Sadly, the dinosaurs in Jurassic World have not been updated with any new information from the 1990s or 2000s or 2010s, and indeed in a few cases are less accurate than in the original movie," said paleontologist Thomas R. Holtz, Jr. of the University of Maryland.
These few scientific inaccuracies however are unlikely to have much of an effect on the film's popularity which remains on course to see it become one of this year's top cinema releases.
Source: Telegraph | Comments (44)
Tags: Jurassic World, Dinosaur