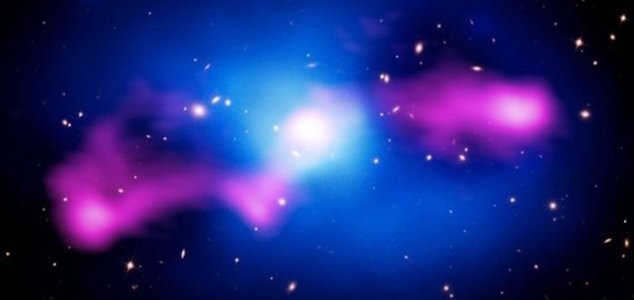 The cluster contains the largest black hole in the known universe.

Image Credit: NASA / STScl / NRAO / VLA
A distant galaxy cluster is home to the most powerful explosion to have occurred since the Big Bang.
Exhibiting a spectacular glow of bright blue and fluorescent pink this distant galaxy cluster may seem like little more than a harmless astronomical wonder, but inside its breathtaking exterior there lies an immense explosion that has been raging for the last 100 million years.
Having released as much energy as several hundred million gamma ray bursts, the engine at the heart of this colossal maelstrom is the largest black hole in the known universe - a monster or epic proportions with a mass more than 10 billion times that of our own sun.
Now new images of this incredible scene, which is located at a distance of 2.6 billion light years away, have been revealed for the first time thanks to a combination of images and data from multiple sources including the Hubble Space Telescope and the Chandra X-Ray Observatory.
The bright pink areas, which measure 600,000 light years across, are vast cavities blasted out by supersonic jets from the large galaxy that can be seen in the center of the image.
The blue areas, which represent x-rays, are regions filled with vast quantities of hot gas.
Source: ABC.net.au | Comments (6)
Similar stories based on this topic:
Tags: Galaxy, Explosion