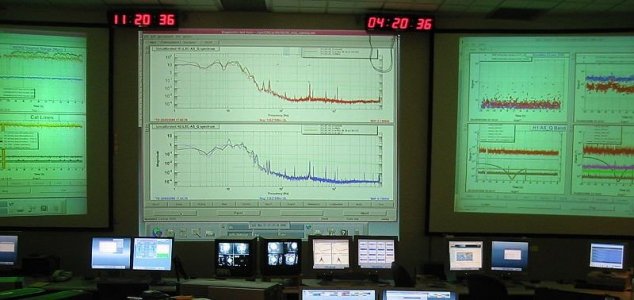 The control room at the LIGO facility.

Image Credit: Philip Neustrom
Recent rumors suggest that gravitational waves may have been directly detected for the first time.
Gravitational waves - ripples in the fabric of space-time that carry energy across the universe - were first proposed by Albert Einstein as a consequence of his General Theory of Relativity back in 1916.
While strong circumstantial evidence for these waves has existed for years, scientists have never been able to directly detect them. Now however, an experiment known as the Advanced Laser Interferometer Gravitational-Wave Observatory (LIGO), might have actually found something.
While details are sketchy at this point, cosmologist Lawrence Krauss has indicated that he has received confirmation about a possible discovery and that more details should be coming soon.
"They will be extremely cautious," he said regarding the LIGO team. "There's no reason for them to make a claim they are not certain of."
Confirmation of the existence of gravitational waves would be one of the most important scientific discoveries in years and could open up a whole new window on the universe.
"Gravitational waves are generated in the most exotic, strange locations in nature, such as at the edge of black holes at the beginning of time," said Krauss.
"We are pretty certain they exist, but we've not been able to use them to probe the universe."
Source: The Guardian | Comments (33)
Similar stories based on this topic:
Tags: Gravitational Waves