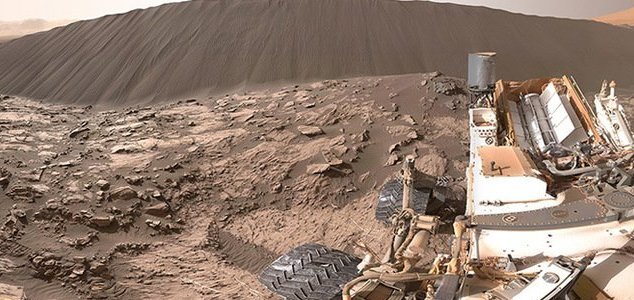 A panoramic image taken by the Curiosity rover.

Image Credit: NASA
NASA's Curiosity rover has photographed a huge wall of sand on the edge of the Martian desert.
A trek across a desert on our own planet can be intimidating enough, but imagine traveling millions of miles through space and then tackling a sand dune five-meters high on another world.
This is the prospect faced by the Curiosity rover this week as it sent back photographs from the edge of what has become known as the 'Namib Dune' on Mars.
It is the first time that a rover has ever visited a sand dune on another world and scientists are treading extra carefully so that it doesn't become stuck while attempting to study it up close.
If all goes well Curiosity will be able to analyze the chemical composition of the sand using its scientific instruments and help reveal new clues as to how these incredible dunes came to be.
Source: Independent | Comments (4)
Tags: Mars, Curiosity