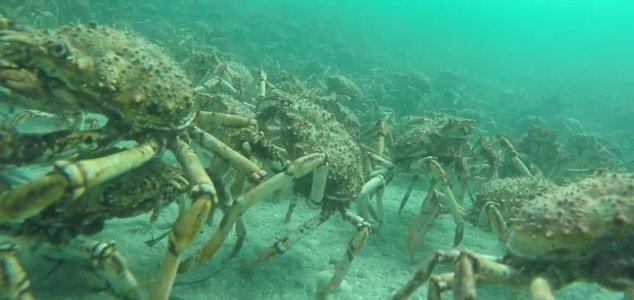 The crabs gathered en masse.

Image Credit: Sheree Marris / Facebook / YouTube / The Nature of Science
An Australian aquatic scientist has captured footage of the crustaceans congregating in Port Phillip Bay.
Each year as the ocean cools, hundreds of thousands of spider crabs migrate en masse to the warmer waters of Australia's southern shores.
Now scientist Sheree Marris, who describes herself on social media as the "love child of David Attenborough and Ariel the mermaid", has released new video footage showing spider crabs gathering together in such large numbers that it looks like the sea floor is alive.
"Who would have thought something like this, that is so spectacular, could be happening in Australia on the southern shore," she said. "People think Port Phillip Bay's a marine wasteland … but this is really unique and it's really spectacular."
Scientists are not completely sure why the crabs gather together like this but one theory is that, during moulting, they congregate in large groups for mutual protection from predators.
Source: BBC News | Comments (9)
Tags: Spider Crabs, Australia