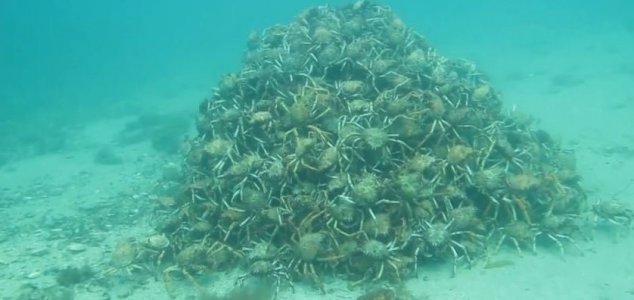 The crabs had formed a huge mound on the sea floor.

Image Credit: YouTube / Pink Tank Scuba
44-year-old PT Hirschfield captured the remarkable spectacle on camera near Melbourne, Australia.
For some people the sight of just one of these spider-like crustaceans is enough to make their skin crawl, but on rare occasions these eight-legged sea-dwellers can gather together in huge numbers, as was the case when scuba diver PT Hirschfield ventured in to the ocean off Blairgowrie Pier recently.
While it is not unusual to see the crabs gathering before their annual migrations, in this case the creatures had congregated in such large numbers that they had formed a huge pyramid.
In a video of the discovery uploaded on to YouTube, the huge writhing mass of crabs can be seen in exquisite detail with each individual crab climbing all over the bodies of its fellows.
Hirschfield, who dives three times a week, believes that the spectacle could be one of the largest spider crab gatherings ever recorded on film.
"Thatís really unusual," she said. "When they usually come in for their pre-migration, they usually stack about five or seven high. I was quite excited to see that they had come in in those numbers."
More videos from her adventures can be found on her blog -
Pink Tank Scuba
.
Source: 9news.com.au | Comments (21)
Tags: Spider Crabs, Australia