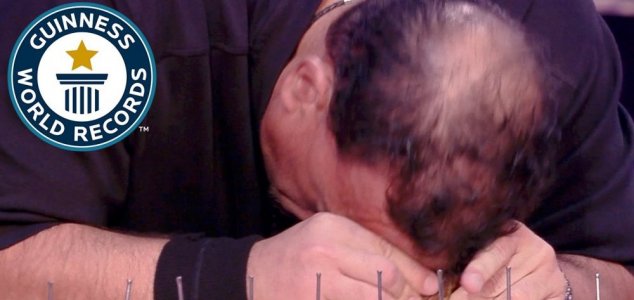 This was bound to have given him a headache.

Image Credit: YouTube / Guinness World Records
John 'Hammer Head' Ferraro achieved the ridiculous feat to earn himself a new Guinness World Record.
The American strongman and wrestler is certainly no stranger to extreme head-related feats having previously set a record for breaking 45 concrete blocks on his head with a bowling ball in April 2011.
In this latest stunt, which can be viewed below, Ferraro managed to knock a total of 38 large nails in to a piece of wood using only his own head as a hammer.
The reason he can perform such feats is actually down to his skull which is more than double the thickness of the average human's. He first discovered his remarkable talent after falling head-first through a wooden door while chasing his brother as a child.
Source: Huffington Post | Comments (19)
Tags: John Ferraro, World Record