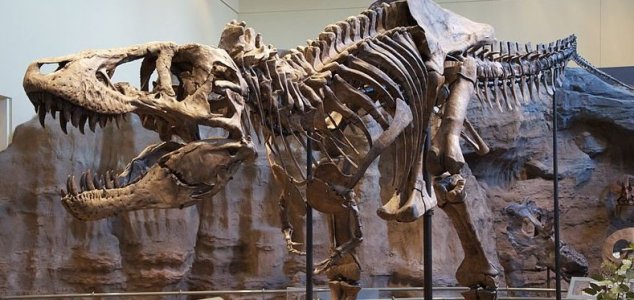 Chenanisaurus was a smaller version of T. rex (pictured).

Image Credit: CC BY-SA 3.0 Scott Robert Anselmo
An extremely rare fossil belonging to an ancient predatory dinosaur has been found in a mine in Morocco.
Known as Chenanisaurus barbaricus, this Cretaceous-era predator was Africa's answer to Tyrannosaurus rex and lived just before the extinction of the dinosaurs.
The fossil, which was found within a phosphate mine at Sidi Chennane in Morocco's Oulad Abdoun Basin, is so rare that its discovery has been likened to winning the lottery.
"This find was unusual because it's a dinosaur from marine rocks - it's a bit like hunting for fossil whales and finding a fossil lion," said Nick Longrich of the University of Bath.
"It's an incredibly rare find - almost like winning the lottery. But the phosphate mines are so rich, it's like buying a million lottery tickets, so we actually have a chance to find rare dinosaurs like this one."
Chenanisaurus was a bit smaller than its more famous cousin and had a shortened, blunter snout. While T. rex dominated in North America, Chenanisaurus was at the top of the food chain in Africa.
"We have virtually no dinosaur fossils from this time period in Morocco - it may even be the first dinosaur named from the end-Cretaceous in Africa," said Longrich.
"It's also one of the last dinosaurs in Africa before the mass extinction that wiped out the dinosaurs."
Source: New Scientist | Comments (6)
Similar stories based on this topic:
Tags: Dinosaur
Looking for more about dinosaurs ? Check out...
The Complete Illustrated Encyclopedia Of Dinosaurs & Prehistoric Creatures
by Dougal Dixon
Ranging from gentle plant-eaters to ferocious giants - this concise guide to dinosaurs and other prehistoric animals features fully illustrated descriptions of over 1,000 dinosaur species from the Triassic, Jurassic and Cretaceous eras.
Written by Dougal Dixon, a geologist specializing in earth sciences, this comprehensive reference even includes maps showing the sites where important fossils have been found.