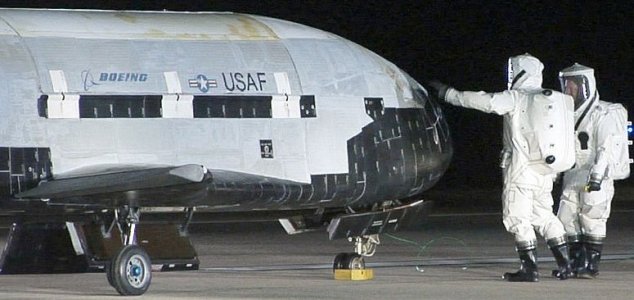 What has the X-37B been doing this time ?

Image Credit: United States Air Force / Michael Stonecypher
The US Air Force's mysterious space plane has landed in Florida after spending nearly two years in orbit.
The solar-powered space plane, which looks a lot like a miniature version of NASA's space shuttles, had been originally designed to repair satellites before NASA discontinued the project and passed it over to the US Department of Defense back in 2004.
Now following a mission lasting a record-breaking 718 days, the enigmatic vehicle has successfully landed once again at the Shuttle Landing Facility at NASA's Kennedy Space Center in Florida.
"Today marks an incredibly exciting day for the 45th Space Wing as we continue to break barriers," said Air Force Brig. Gen. Wayne Monteith.
"Our team has been preparing for this event for several years, and I am extremely proud to see our hard work and dedication culminate in today's safe and successful landing of the X-37B."
Unsurprisingly however, no details of the vehicle's mission have been revealed to the public.
"The hard work of the X-37B OTV team and the 45th Space Wing successfully demonstrated the flexibility and resolve necessary to continue the nation's advancement in space," said Randy Walden, director of the Air Force Rapid Capabilities Office.
"The ability to land, refurbish, and launch from the same location further enhances the OTV's ability to rapidly integrate and qualify new space technologies."
Source: Space.com | Comments (18)
Tags: X-37B