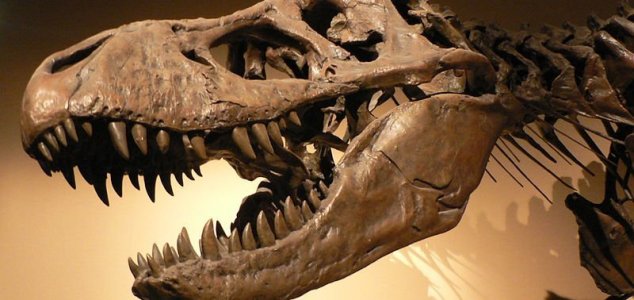 The jaws of a Tyrannosaurus rex were ludicrously strong.

Image Credit: CC BY-SA 3.0 David Monniaux
The prehistoric carnivore was capable of exerting 8,000 pounds of force with its huge gaping jaws.
In a recent study, researchers combined dinosaur fossil records with existing bite data from previous studies in to crocodiles to create a computer model describing the bite of a Tyrannosaurus rex.
Their results showed that the dinosaur had a bite force more than double that of a crocodile and that, in some parts of its teeth, it could exert over 431,000 pounds per square inch of pressure.
It is thought that this terrific bite would have enabled T. rex to pulverise and eat bones, a behavior that would have helped it to get the most nutrition possible out of a carcass.
"It was this bone-crunching acumen that helped T. rex to more fully exploit the carcasses of large horned-dinosaurs and duck-billed hadrosaurids whose bones, rich in mineral salts and marrow, were unavailable to smaller, less equipped carnivorous dinosaurs," said study author Paul Gignac.
Source: Yahoo! News | Comments (1)
Similar stories based on this topic:
Tags: Tyrannosaurus, Dinosaur