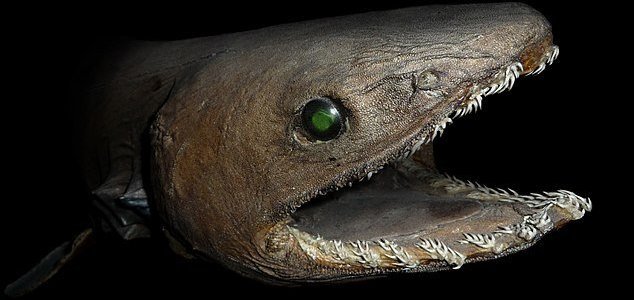 This ancient species was around during the time of the dinosaurs.

Image Credit: Citron / CC-BY-SA-3.0
Considered to be a 'living fossil', the frilled shark has remained unchanged for over 80 million years.
The extremely rare shark, which would have swam the prehistoric seas at the same time Tyrannosaurus Rex and Triceratops roamed the land, is only seldom observed by scientists.
Usually found up to 4,200ft beneath the surface, the frilled shark can grow up to 6ft and possesses a unique set of gills that, unlike those of other fish, stretch all the way across its throat.
It also has a particularly unusual set of teeth designed to help it latch on to its prey.
This latest specimen, which was caught off the Algarve coast, was discovered by European Union researchers who were working on a project to 'minimize unwanted catches in commercial fishing'.
In total, only a very small number of frilled sharks have ever been observed alive.
Source: Yahoo! News | Comments (12)
Tags: Frilled Shark, Living Fossil