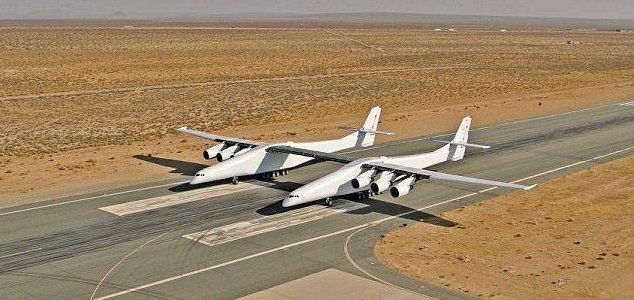 Payloads can be attached under the central wing.

Image Credit: YouTube / MDx Media / Stratolaunch
Stratolaunch's new aircraft is so enormous that its wingspan could contain an entire football field.
Measuring a whopping 385ft across and capable of carrying payloads of up to 500,000 pounds, the massive plane almost looks like two airliners stuck together with its unusual dual-fuselage design.
Spearheaded by Microsoft co-founder Paul G. Allen, the project aims to create a cost-effective and reliable means with which to launch satellites, shuttles and other spacecraft from low-Earth orbit.
This week's trial run, which saw the plane cruise down the runway using all six of its turbofan engines, represents another major step forward for the company.
The aircraft is expected to take to the skies for the first time at some point in 2019.
"This was another exciting milestone for our team and the program," said aircraft program manager George Bugg. "Our crew was able to demonstrate ground directional control with nose gear steering, and our brake systems were exercised successfully on the runway."
"Our first low speed taxi test is a very important step toward first flight. We are all proud and excited."
Source: aopa.org | Comments (11)
Tags: Stratolaunch