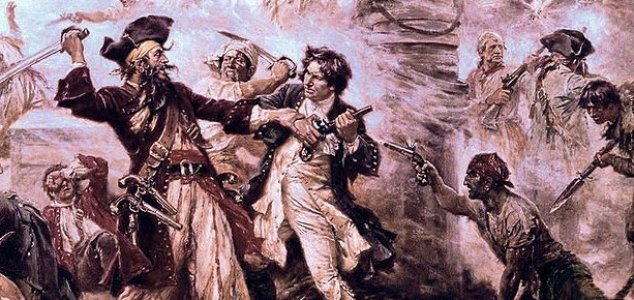 Blackbeard had a fearsome reputation.

Image Credit: Jean Leon Gerome Ferris
Archaeologists have found the answer to one of the Queen Anne's Revenge's most enduring mysteries.
Born in 1680 as Edward Thatch, Blackbeard was originally a privateer during the War of the Spanish Succession before turning to piracy after the confict had ended in 1713.
Sailing aboard his ship, the Queen Anne's Revenge, his bloodthirsty reputation was cemented by stories of his merciless brutality and his fearsome appearance. He was even known to place lit canon fuses underneath his hat in an effort to intimidate his enemies.
The wreckage of his famous vessel was discovered along the coast of North Carolina back in 1996, offering archaeologists the opportunity to explore his many treasures and possessions first-hand.
While most of the items found aboard the ship were easy to identify, a peculiar collection of paper scraps stuffed inside the chamber for a breech-loading cannon proved to be rather perplexing.
The 16 tiny shreds contained printed words, presumably from a book that had been torn up.
Now at last, archaeologists have been able to piece together enough of the fragments to determine exactly which book the scraps had come from - a maritime tome by Capt. Edward Cooke entitled '
A Voyage to the South Seas, and Round the World, Perform'd in the years 1708, 1709, 1710 and 1711
.'
Given that the scraps had lain underwater for centuries, this was certainly no easy task.
Source: 9news.com.au | Comments (11)
Tags: Blackbeard, Pirate