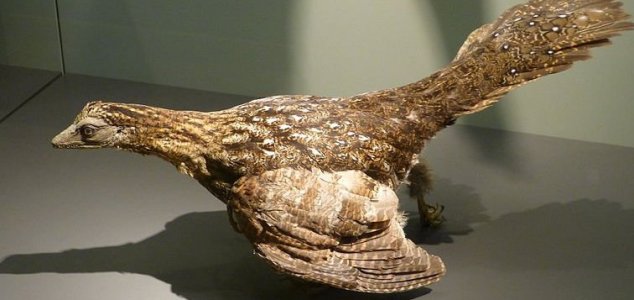 Archaeopteryx was around the size of a magpie.

Image Credit: CC BY-SA 3.0 Wolfgang Sauber
A new study has determined that this ancient winged reptile could only fly over short distances.
Archaeopteryx, which lived around 150 million years ago, was capable of active flight but would have been unable to fly over long distances or to glide and soar through the air like today's birds of prey.
Instead, palaeontologists now believe that this prehistoric avian ancestor would have flown in short bursts - the same strategy that pheasants use to escape predators.
This conclusion was reached following the use of an extremely powerful x-ray beam at the European Synchrotron facility in Grenoble, France to analyze the internal structure of Archaeopteryx fossils.
"We immediately noticed that the bone walls of Archaeopteryx were much thinner than those of earthbound dinosaurs but looked a lot like conventional bird bones," said lead researcher Dennis Voeten.
"Data analysis furthermore demonstrated that the bones of Archaeopteryx plot closest to those of birds like pheasants that occasionally use active flight to cross barriers or dodge predators, but not to those of gliding and soaring forms, such as many birds of prey and some seabirds that are optimised for enduring flight."
Source: New Scientist | Comments (3)
Tags: Archaeopteryx