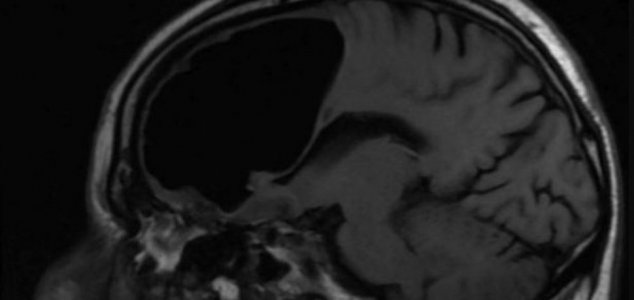 Scans revealed the hole inside the man's head.

Image Credit: Lehmer et al./BMJ Case Reports
The 84-year-old, who is from Northern Ireland, was found to have an air pocket where part of his brain should be.
The unnamed man's peculiar affliction was discovered after his GP referred him to hospital for tests following a series of bad falls at his home and a sensation of weakness in his left arm and leg.
Doctors were shocked to find that there was a huge 9cm hole in his right frontal lobe - the part of the brain responsible for controlling muscles on the left side of the body.
An MRI scan later revealed that, despite appearances, his brain matter hadn't actually gone but had instead been displaced by a type of air cavity inside his skull known as a pneumatocoele.
The most likely cause of this was a benign bone tumor that had eroded part of the bone, allowing air to be pushed up in to the skull through what has been described as a "one-way valve effect."
Doctors offered to operate on his brain to remove the tumor and reduce the air pocket, however after hearing about the risks involved in the procedure he ultimately decided against it.
Fortunately though, the huge gap in his head doesn't seem to have done him any harm as, twelve weeks after his visit to the hospital, the weakness he had been experiencing has completely gone.
Source: Science Alert | Comments (10)
Similar stories based on this topic:
Tags: Brain