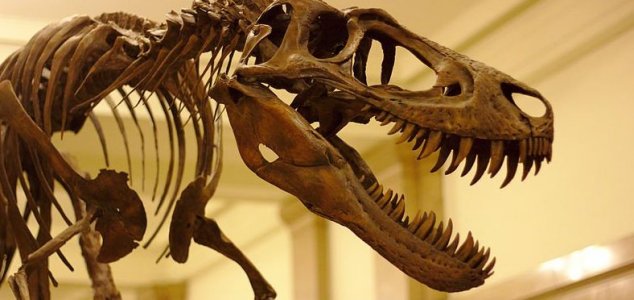 (Pictured) A juvenile T. rex on display at Carnegie Museum.

Image Credit: CC BY-SA 3.0 Sage Ross
Palaeontologists have unearthed the well-preserved remains of a juvenile Tyrannosaurus rex in Montana.
Found within the state's famous Hell Creek formation, the young dinosaur is one of only a small handful of 'decently complete' juvenile T. rex fossils discovered at the site over the last 100 years.
One particularly impressive trait of these young carnivores was how fast they grew up.
"We would suspect [this T.rex would have been] maybe 6 to 7 years old, possibly 8," said Kyle Atkins-Weltman of the Biodiversity Institute and Natural History Museum at Kansas University.
Incredibly, the juveniles would have gained up to 3lbs every day at the peak of their growth.
"By the time they were 4 years old, they were the size of some of the largest land predators that are around today," said Atkins-Weltman. "It's literally hard to fathom an animal growing this fast because there's really nothing quite like it in the modern world."
Tyrannosaurus rex lived from around 67 to 65 million years ago before being wiped out alongside the rest of the dinosaurs by the mass extinction event at the end of the Cretaceous.
Source: Live Science | Comments (12)
Tags: Tyrannosaurus, Dinosaur