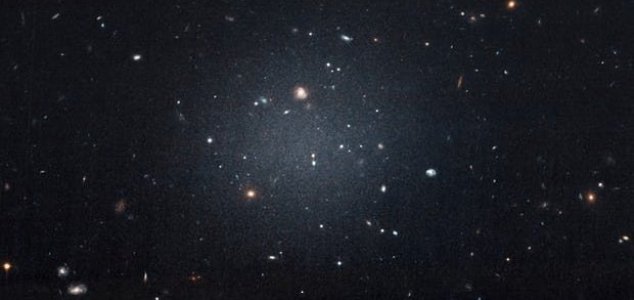 This galaxy has some rather unusual properties.

Image Credit: Hubble / NASA / Pieter van Dokkum
The discovery raises new questions about the formation of galaxies and the nature of dark matter.
The existence of this enigmatic form of matter, which is thought to account for up to 85% of the mass of the universe, remains one of the most important unsolved mysteries in modern physics.
Astrophysicists have long believed that dark matter played an important role in the formation of galaxies in the early universe, meaning that it should be common pretty much everywhere.
Finding a galaxy without any dark matter however means that something else must be going on.
"Finding a galaxy without dark matter is unexpected because this invisible, mysterious substance is the most dominant aspect of galaxies," said lead author Pieter van Dokkum of Yale University.
"The idea is that dark matter is not just an object inside a galaxy but it helps form the galaxy."
The galaxy in question, NGC 1052-DF2, is situated 65 million light years away in the constellation Cetus. In addition to its lack of dark matter, this galaxy also seems to have an unusually low mass.
"It's about the size of the Milky Way... but it has very few stars," said Professor van Dokkum.
"It has about 200 times less stars than the Milky Way."
The search for answers continues.
Source: ABC.net.au | Comments (10)
Tags: Dark Matter, Galaxy