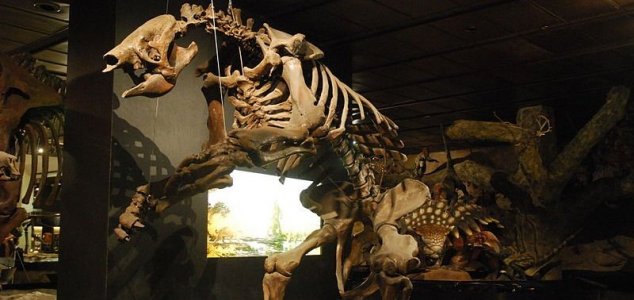 Sloths once grew to enormous sizes.

Image Credit: CC BY-SA 2.5 Wikipedia Loves Art
New evidence has been discovered to suggest that our ancestors hunted down giant prehistoric sloths.
Given the small size and rather docile temperament of today's sloths, it's hard to imagine that, thousands of years ago, there existed huge, hulking sloths that weighed up to 4 tons.
Now a set of 11,000-year-old fossilized footprints discovered in New Mexico has revealed that these creatures not only lived in the region, but were also actively hunted by our own ancestors.
The prints, which measure 20 inches across, each have a smaller human print nestled inside them, suggesting that the creature's pursuers were following very closely behind.
"The human footprints share the same long-axis orientation and occur inside the sloth track outline, indicating that the human trackmaker was walking intentionally within the sloth track," scientist Matthew Bennett and colleagues wrote in a new paper.
"These steps required the person to adjust her/his normal stride to accommodate the longer stride of the sloth."
While it had long been suspected that humans would have hunted giant sloths either for food or fur, this discovery offers the first direct evidence that this actually took place.
Some of the prints even suggest that the sloth may have attempted to defend against the attack.
"The circular sloth trackways are consistent with defensive behaviors in which sloths reared on their hind-limbs, freeing their forelimbs for defence," the researchers wrote.
"We termed these structures 'flailing circles'."
Source: Science Alert | Comments (13)
Tags: Sloth