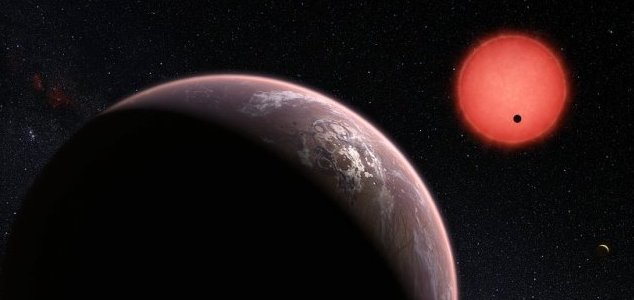 Planets appear to be very common around other stars.

Image Credit: ESO/M. Kornmesser/N. Risinger
Astronomers have found a solar system 160 light years away with three planets roughly the size of our own.
The discovery adds to the growing body of evidence suggesting that rocky terrestrial planets like the Earth are commonplace across the cosmos and that, by extension, life may be too.
The new extrasolar worlds, which were picked up using NASA's Kepler Space Telescope, are around 160 light years away. They were found by looking for the telltale dip in the light from their parent star that occurs when a planet happens to pass in front of it.
Of the three worlds, one is almost exactly the same size as the Earth while the other two are slightly larger. All of them however are too close to their star to offer suitable conditions for life to develop.
A second solar system with two 'super Earth' planets was also discovered at around the same time.
Determining exactly what kind of atmospheres these extrasolar worlds might have however will need to wait until after NASA's upcoming James Webb Space Telescope launches in two years' time.
Source: Independent | Comments (8)
Tags: Earth, Extrasolar, Planet