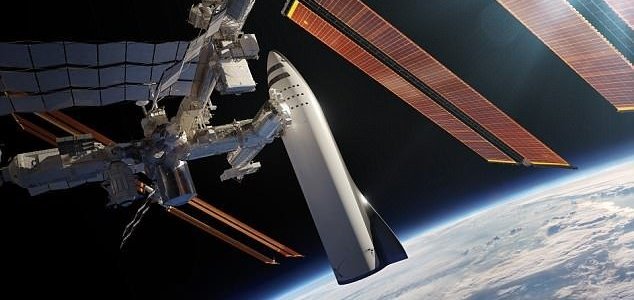 An artist's impression of the BFR docked at the ISS.

Image Credit: SpaceX
SpaceX CEO Elon Musk has hinted at having astronauts run around the BFR like in 2001: A Space Odyssey.
If there's one thing Musk certainly isn't short of it's ambition, having already revealed plans to land colonists on Mars in the not-too-distant future and to develop a gigantic rocket to get them there.
Known as the BFR (Big Friendly Rocket), the enormous launch vehicle will be the most powerful rocket in history with the ability to send large payloads all the way to the Red Planet.
For those traveling aboard the rocket however, Musk has borrowed an idea from Stanley Kubrick's critically-acclaimed movie adaptation of Arthur C. Clarke's novel
2001: A Space Odyssey
.
In the film, the astronauts can be seen keeping fit by running around the inside of the ship's hull, a feat made possible by the centrifugal force of the ship as it rotates.
According to Musk, astronauts on the BFR will be able to do very much the same thing.
Source: Inverse.com | Comments (5)
Tags: BFR, Rocket