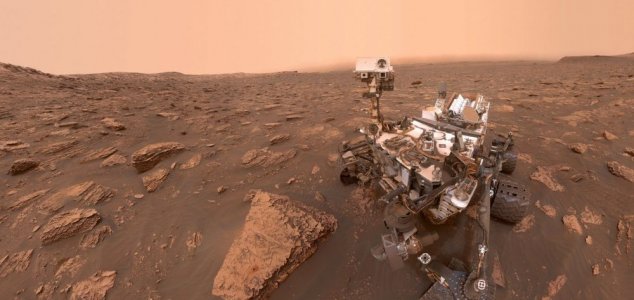 This selfie taken by the Curiosity rover shows the dust-filled sky.

Image Credit: NASA/JPL-Caltech
The dust storm that left the Opportunity rover out of commission is now classed as 'planet-encircling'.
The storm, which began to kick up swirling clouds of red dust at the end of last month, is now so extensive that the entire planet has been surrounded by it, NASA scientists have revealed.
While the Opportunity rover, which relies on solar panels, remains in low power mode, Curiosity, which is powered by a radioisotope battery, is still going strong, providing a unique opportunity for scientists to study the dust storm from the surface of the planet.
As the days go on, the sky has been steadily darkening and it is uncertain how long the storm will last. Some dust storms on Mars have been known to continue for months.
Learning as much as possible about severe weather on the Red Planet is particularly important as any data collected during the storm could prove invaluable for future human explorers.
Scientists believe that heat is the primary driving force behind such storms.
"If you have sunlight that reaches the surface and heats it up, that creates an instability where warm air rises up," said planetary scientist Tanya Harrison. "On Mars, there's so much of this loose dust lying on the surface that when you have these upward winds, they take a lot of the dust with it."
Source: Sky and Telescope | Comments (85)
Tags: Mars, Dust Storm