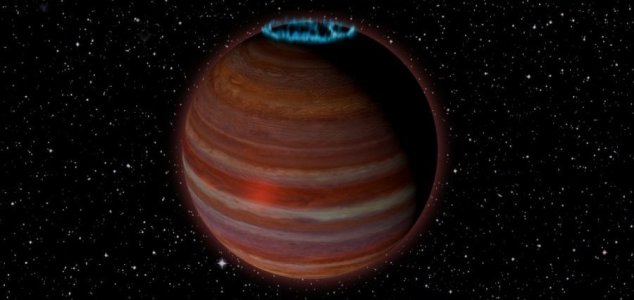 Is it a planet or is it a brown dwarf ?

Image Credit: Caltech/Chuck Carter; NRAO/AUI/NSF
The huge object is 12.7 times the mass of Jupiter and has a magnetic field 200 times more powerful.
Its detection by the National Science Foundation's Very Large Array (VLA) marks the first time a planetary-mass object outside of our solar system has ever been detected by a radio telescope.
The term 'rogue' refers to the fact that it exists in interstellar space and is not orbiting a parent star.
"This object is right at the boundary between a planet and a brown dwarf, or 'failed star,' and is giving us some surprises that can potentially help us understand magnetic processes on both stars and planets," said study leader Melodie Kao.
Known as SIMP J01365663+0933473, the object is only 200 million years old - making it a relative youngster compared to the Sun - and is situated 20 light years from the Earth.
"This particular object is exciting because studying its magnetic dynamo mechanisms can give us new insights on how the same type of mechanisms can operate in extrasolar planets - planets beyond our solar system," said Kao.
"We think these mechanisms can work not only in brown dwarfs, but also in both gas giant and terrestrial planets."
Source: Science Daily | Comments (13)
Similar stories based on this topic:
Tags: Planet, Brown Dwarf