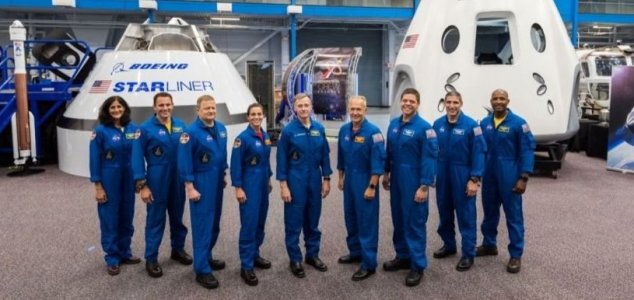 The astronauts have been described as 'American heroes'.

Image Credit: NASA
The nine astronauts will be embarking on the first manned launches from American soil since 2011.
It has been a long time coming, but now at last it seems as though America's reliance on the Russian Soyuz spacecraft to launch astronauts to the International Space Station is finally coming to an end.
Two new manned spacecraft have been developed - the SpaceX Crew Dragon and the Boeing CST-100 Starliner - and both will soon be ready for their first manned test flights.
Out of the nine astronauts revealed for these missions, NASA astronauts Eric Boe and Nicole Aunapu-Mann and Boeing astronaut Chris Ferguson will be on the first Starliner test flight while NASA astronauts Bob Behnken and Doug Hurley will be aboard the Crew Dragon test flight.
After that, if everything goes to plan, NASA astronauts Josh Cassada and Suni Williams will fly to the space station on the first Boeing ISS mission while NASA astronauts Victor Glover and Mike Hopkins will fly aboard the first SpaceX ISS mission.
"This is just the beginning of daring missions that this country is embarking upon," said Johnson Space Center director Mark Geyer.
"It's an exciting time for human spaceflight and an exciting time for our nation."
The SpaceX test flight is scheduled for November and the Boeing test flight will follow next year.
"Each test flight will provide data on the performance of the rockets, spacecraft, ground systems, and operations to ensure the systems are safe to fly astronauts," NASA wrote.
Source: Fox News | Comments (1)
Tags: Boeing, SpaceX, Astronauts