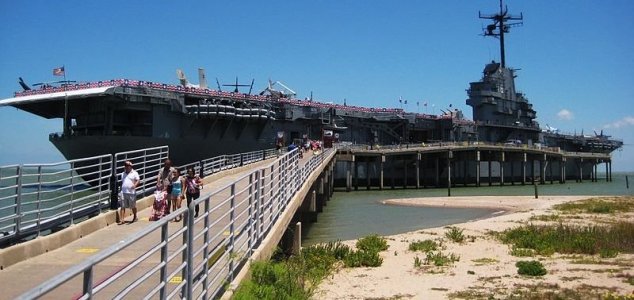 The USS Lexington has been permanently docked since 1992.

Image Credit: CC BY-SA 3.0 Liveon001
The World War II-era vessel, which is now a museum, has seen more than its fair share of ghost sightings.
Having been featured on TV shows such as 'Ghost Hunters' and 'Ghost Lab', the ship, which is home to an extensive labyrinth of rooms and corridors, has more than earned its haunted reputation.
"There [are] a bunch of stories that we just can't discredit," said tour guide Bill Miller.
The most recent report comes courtesy of Will Smith, a visitor to the vessel who had taken a photograph showing the reflection of an unknown individual standing near one of the displays.
Although it is possible to reproduce the sighting by standing in a certain position, Smith remains adamant that there was nobody else there at the time and the reflection is clearly not his own.
"Nothing in the room! There is nothing that can make that reflection. I'm 5' 3' and 280 pounds. That's defiantly not me in that reflection," he said.
A news report featuring both an interview with Smith and the photo itself can be viewed below.
Source: KZTV10.com | Comments (7)
Tags: USS Lexington, Ghost