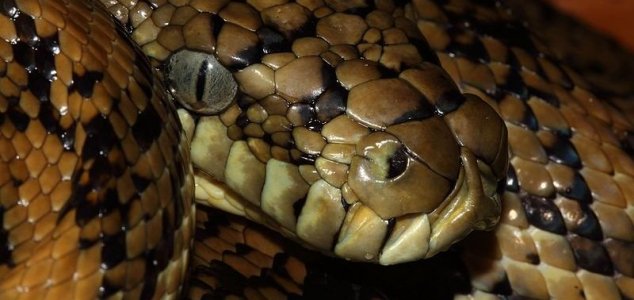 Imagine waking up to this...

Image Credit: CC BY-SA 4.0 Oliver Neuman
One Brisbane resident got the fright of her life recently when she awoke to find a rather unwelcome guest.
The terrifying encounter began when the woman (who remains anonymous) was startled by two loud thuds in the early hours of the morning. Thinking nothing of it, she turned over and fell back to sleep.
When she awoke a second time at 3am however, the nature of the situation became all too clear - a large carpet python had not only entered her home but also her bed and was lying right on top of her.
Leaping from her bed in fright, the terrified woman wasted no time in phoning for a snake catcher.
"She managed to get herself back to sleep only to be woken at approximately 3am when she felt weight and corresponding 'cold spots' on her body as the carpet python lay over her under the sheets!" Snake Catchers Brisbane wrote on its Facebook page.
"The snake had come through the fan in her ensuite, knocked over a few bedroom ornaments in the dark and then made its way by accident into the bed."
Fortunately nobody was hurt in the incident and the snake was safely removed from the house.
Source: AOL News | Comments (10)
Similar stories based on this topic:
Tags: Snake, Python