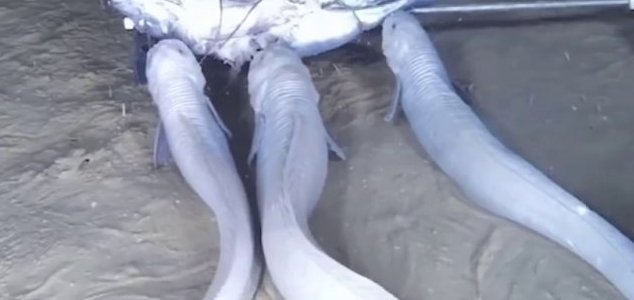 The snailfish wasted no time in taking the bait.

Image Credit: YouTube / Newcastle University
Scientists exploring one of the deepest parts of the ocean have discovered three new species of snailfish.
Despite the freezing temperatures, extreme pressures and complete lack of sunlight found 7,500 meters beneath the surface of the ocean, life has still managed to find a way to thrive.
During a recent expedition, an international team of scientists discovered not one, but three new species of elusive snailfish in the depths of the Atacama Trench off the coast of South America.
"There are lots of invertebrate prey down there and the snailfish are the top predator, they seem to be quite active and look very well-fed," said Dr Thomas Linley from Newcastle University.
The three new species were identified from over 100 hours of footage recorded on the sea floor.
"Their gelatinous structure means they are perfectly adapted to living at extreme pressure and in fact the hardest structures in their bodies are their teeth and the bones in their inner ear which give them balance," said Dr Linley.
"Without the extreme pressure and cold to support their bodies they are extremely fragile and melt rapidly when brought to the surface."
Source: Independent | Comments (8)
Tags: Atacama Trench