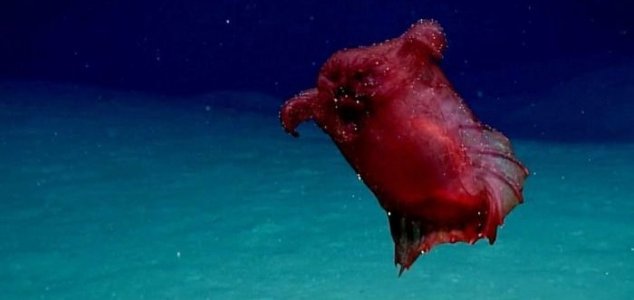 The species is also known by the nickname 'Spanish dancer'.

Image Credit: YouTube / AusAntarctic
A type of deep-sea cucumber with a very unusual name has been filmed in the Southern Ocean for the first time.
The creature, which had previously only been seen in the Gulf of Mexico, was captured on video using a special type of camera technology developed by researchers from the Australian Antarctic Division.
Nicknamed the 'headless chicken monster' and known officially as
Enypniastes eximia
, this strange deep-sea species ranges in color from bright pink to reddish-brown and is semi-transparent, which means that it is possible to see its internal organs as it silently swims through the depths.
"Some of the footage we are getting back from the cameras is breathtaking, including species we have never seen in this part of the world," said program leader Dr Dirk Welsford.
"The housing that protects the camera and electronics is designed to attach to toothfish longlines in the Southern Ocean, so it needs to be extremely durable."
"We needed something that could be thrown from the side of a boat and would continue operating reliably under extreme pressure in the pitch black for long periods of time."
Source: The Guardian | Comments (2)
Tags: Headless Chicken Monster