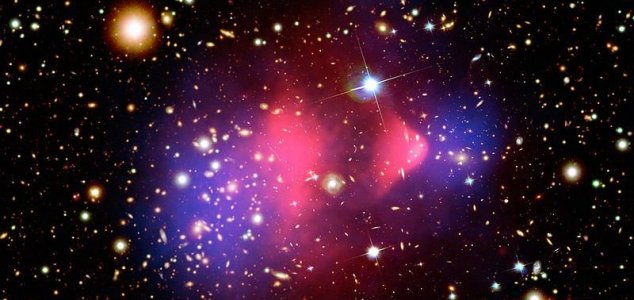 What makes up the missing 95% ?

Image Credit: NASA/CXC/M. Weiss
Scientists have suggested that most of the universe may be made up of a 'dark fluid' with a negative mass.
The precise nature of dark matter and dark energy, which are thought to account for up to 95% of the observable universe, remains one of the most important unsolved mysteries in modern physics.
This latest approach, which has been put forward by scientists at the University of Oxford, involves combining both dark matter and dark energy in to a 'dark fluid' that repels everything around it.
"We now think that both dark matter and dark energy can be unified into a fluid which possesses a type of 'negative gravity,' repelling all other material around them," said Dr. Jamie Farnes.
"Although this matter is peculiar to us, it suggests that our cosmos is symmetrical in both positive and negative qualities."
The existence of negative matter had been previously ruled out because it was believed that it would become less dense as the universe expanded - a direct contradiction of existing observations.
To get around this issue, Dr Farnes has introduced a 'creation tensor' which allows negative masses to be continuously created, thus preventing the 'dark fluid' from diluting as the universe expands.
"Previous approaches to combining dark energy and dark matter have attempted to modify Einstein's theory of general relativity, which has turned out to be incredibly challenging," he said.
"This new approach takes two old ideas that are known to be compatible with Einstein's theory - negative masses and matter creation - and combines them together."
Source: Phys.org | Comments (27)
Tags: Dark Energy, Dark Matter