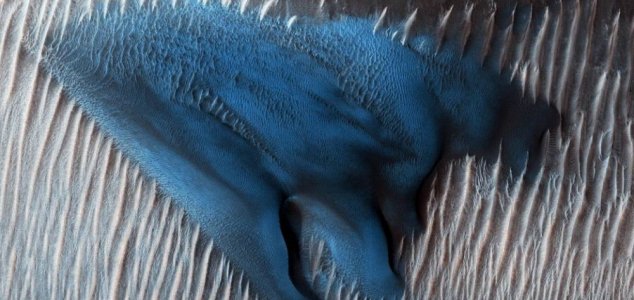 Mars is full of surprises.

Image Credit: NASA/JPL-Caltech/Univ. of Arizon
This unusual looking sand dune was captured on camera by NASA's Mars Reconnaissance Orbiter (MRO).
Situated within the 147-mile-wide Lyot Crater to the north of the Red Planet's equator, this impressive dune stands out within a field of regular crescent-shaped dunes on the Martian surface.
The image itself has been color enhanced, meaning that the dune does not appear blue in real life.
"Sand dunes often accumulate in the floors of craters," NASA wrote. "In this region of Lyot Crater, NASA's Mars Reconnaissance Orbiter (MRO) shows a field of classic barchan dunes on Jan. 24."
"Just to the south of the group of barchan dunes is one large dune with a more complex structure. This particular dune, appearing like turquoise blue in enhanced color, is made of finer material and/or has a different composition than the surrounding."
A high-resolution version of the image can be viewed -
here
.
Source: Space.com | Comments (12)
Tags: Mars