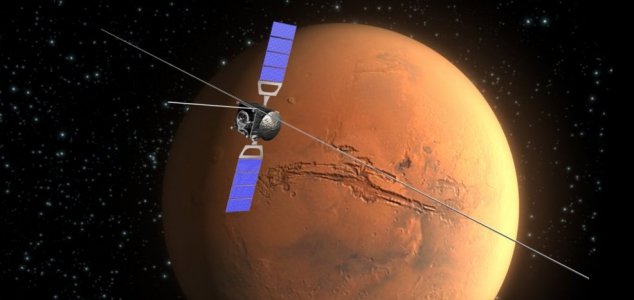 Mars Express has been orbiting Mars since 2003.

Image Credit: ESA
Evidence of an ancient interconnected subterranean groundwater system has been discovered on Mars.
Mars may be a barren, arid wasteland today, but in its distant past it was a lot more like our own planet with its own rivers, lakes, oceans and - according to new findings based on data from the Mars Express orbiter - a vast planet-wide subterranean groundwater system.
"Early Mars was a watery world, but as the planet's climate changed this water retreated below the surface to form pools and 'groundwater'," said study lead author Francesco Salese.
"We traced this water in our study, as its scale and role is a matter of debate, and we found the first geological evidence of a planet-wide groundwater system on Mars."
The evidence is based on an analysis of two dozen enclosed craters in the planet's northern hemisphere that are situated 4,000 meters beneath what is thought to be martian 'sea level'.
The craters show evidence of water that may have risen up and receded over time, with a water level that may have aligned with the shorelines of a martian ocean 3-4 billion years ago.
"We think that this ocean may have connected to a system of underground lakes that spread across the entire planet," said study co-author Gian Gabriele Ori. "These lakes would have existed around 3.5 billion years ago, so may have been contemporaries of a martian ocean."
Future robotic missions to Mars should be able to take a closer look at these areas.
"Findings like this are hugely important; they help us to identify the regions of Mars that are the most promising for finding signs of past life," said Mars Express project scientist Dmitri Titov.
Source: Phys.org | Comments (7)
Similar stories based on this topic:
Tags: Mars, Water