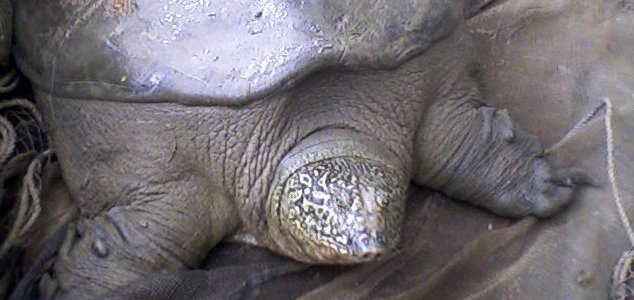 One of the last of the Yangtze giant softshell turtles.

Image Credit: CC BY-SA 3.0 Phuongcacanh
One of the last four remaining members of a critically endangered species of turtle has sadly passed away.
The female Yangtze giant softshell turtle, which had been living at Suzhou zoo in China, died on Saturday afternoon, rendering the species functionally extinct unless another female can be found.
The turtle was believed to be over 90 years old and had undergone five separate artificial insemination attempts in a desperate bid to repopulate the species. For whatever reason, despite appearing to be in good health following the most recent attempt, the turtle was found dead the following day.
Scientists have collected samples of its ovarian tissue for the benefit of future research and are now working to understand exactly what was responsible for its death.
The Yangtze giant softshell turtle is thought to have originated in China and in the wild it used to be quite commonly found in the Yangtze River as well as in Taihu Lake.
Habitat loss and human hunting are believed to be the main factors responsible for its demise.
Suffice to say, with all the females now gone, the future of the species looks grim.
Source: CBS News | Comments (5)
Tags: Yangtze Turtle