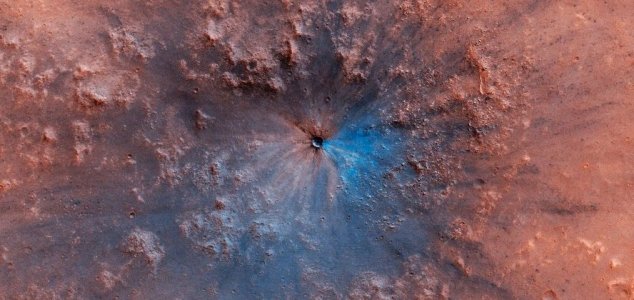 This is one spectacular crater.

Image Credit: NASA/JPL/University of Arizona
Photographed by NASA's Mars Reconnaissance Orbiter, the crater is unlike anything scientists have seen before.
This enhanced-color image, which was snapped by the probe's High Resolution Imaging Science Experiment (HiRISE) camera from a distance of 255km, shows an asteroid impact crater that has produced a spectacular pattern of dark red and blue smudges across the Martian surface.
The object responsible for the crater was likely very small - less than 1.5 meters across - and while such objects typically break up upon entering the planet's thin atmosphere, this one must have been unusually solid as it managed to survive entry in one piece.
According to University of Arizona planetary scientist Veronica Bray, the impact is particularly interesting due to the darker material being exposed underneath the red dust.
The blue in the image, she says, is likely to be ice that was hidden just beneath the surface.
Studying the geology of the impact zone will no doubt keep scientists busy for some time.
Source: Science Alert | Comments (6)
Similar stories based on this topic:
Tags: Mars