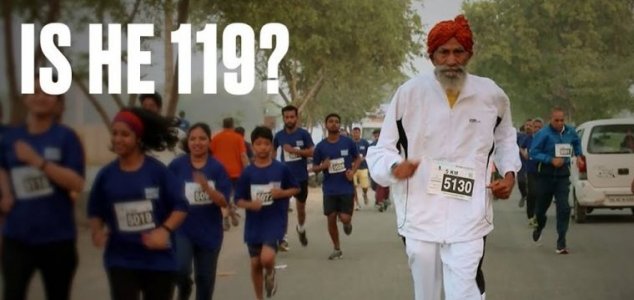 Could Singh really be 119 years old ?

Image Credit: YouTube / The Atlantic
If true, Dharam Pal Singh is not only the oldest ever marathon runner, but also the oldest man alive.
Singh, who hails from rural India, possesses various documents that seem to confirm his age including a passport, a voter ID card and a tax-identification card, however the one thing that he would need to provide to prove it beyond any reasonable doubt - a birth certificate - is the one thing he doesn't have because birth certificates were not typically issued in rural India at the time he was born.
This has made it very difficult for anyone to confirm that he really is 119 years old.
"If Dharam is as old as he says he is, that would make him the oldest man alive - as far as we know," said filmmaker David Freid who has created a documentary about Singh entitled
The Never-Ending Marathon of Mr. Dharam Singh
(which you can view below.)
"And if Dharam is the oldest man alive, and running marathons, I'd like to know his secret, and I think others would too."
Even if Singh isn't 119, he is still incredibly fit and capable for someone of advanced years.
A practitioner of yoga and meditation, he survives off a diet of food and drink made from leaves and vegetables. His supporters have also been practicing homeopathy on him for years.
"I am running to bring pride to India," he says.
"As long as I'm alive, I will keep running. I'll run until I die."
Source: The Atlantic | Comments (34)
Tags: Dharam Pal Singh