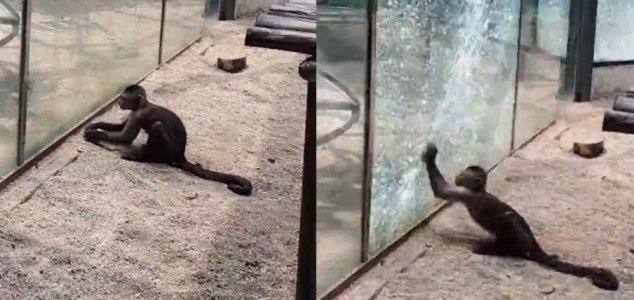 The monkey failed to make good his escape.

Image Credit: YouTube
Footage showing a monkey using a sharpened rock to break the glass at a zoo in China has recently gone viral.
The incident, which occurred at Zhengzhou Zoo in Central China's Henan Province on August 20th, played out like some sort of precursor to the
Planet of the Apes
movies.
In the video, the monkey - a Colombian white-faced capuchin - can be seen grabbing a rock in both hands and repeatedly striking it against the hardened safety glass that surrounds its enclosure.
After a few hits the glass breaks, causing the monkey to dart away in fright.
"This monkey is unlike other monkeys," said Zhengzhou Zoo staff member Tian Shuliao. "This one knows how to use tools to break walnuts."
"When we feed walnuts to other monkeys, they only know to bite it."
"But it had never hit the glass before though. This is the first time. It's toughened glass, so it would never have got out. After it happened, we picked up all the rocks and took away all its 'weapons'."
Source: Lad Bible | Comments (9)
Similar stories based on this topic:
Tags: Monkey, Zoo