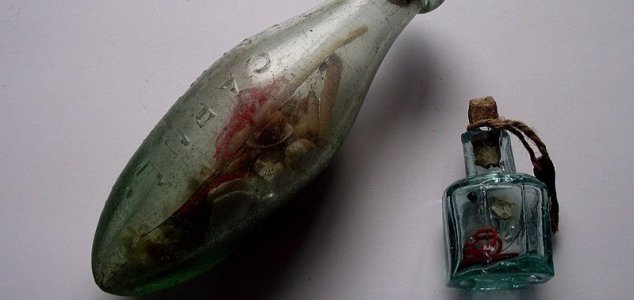 Witch bottles came in many shapes and sizes.

Image Credit: CC BY-SA 3.0 Malcolm Lidbury
An anti-witchcraft potion dating back 150 years has been discovered in a pub in Northamptonshire, England.
The historic remedy, which was found after a chimney was demolished during roof repairs at the former Star and Garter Inn in Watford village, is thought to date back to the 19th Century.
According to researchers at the Museum of London Archaeology, witch bottles were traditionally used to help ward off evil spells and to protect the occupants of a house from witchcraft.
They have often been found in the walls or beneath the floors of historic buildings as well as in churchyards and along riverbanks. Over 100 of them have been found to date.
This particular example contained a concoction of human teeth, glass and fish hooks.
"I will probably hide it away again for someone to find in another 100 years or so," said the owner.
The building it was found in is the birthplace of Angeline Tubbs - the famed Witch of Saratoga - who still remains the subject of ghost tours at Saratoga Springs in New York where she moved aged 15.
Given that she was born in 1761 however, it's unlikely that the witch bottle was intended for her.
Source: BBC News | Comments (8)
Tags: Witch Bottle