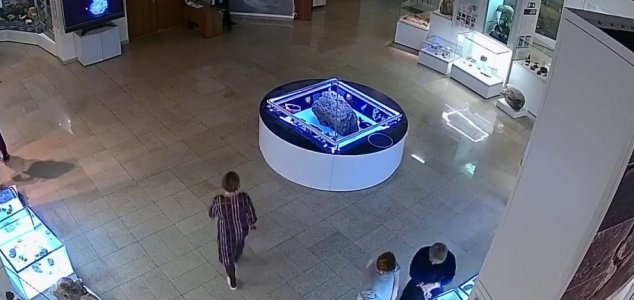 The meteorite is in the blue lit display case.

Image Credit: State Museum of the South Ural History
Perplexing CCTV footage has emerged showing a display case moving up and down all by itself.
Situated in The State Museum of South Ural History in the city of Chelyabinsk, Russia, the popular exhibit contains a chunk of the infamous meteor which injured over 500 people and caused significant damage over a wide area when it exploded over the region back in 2013.
The unexplained activity occurred on December 14th when CCTV footage showed the transparent dome on top of the meteorite slowly moving up and down over the course of several minutes.
It moved so much in fact that it triggered an alarm and alerted the museum's security staff.
Although a mechanism does exist to lift the dome, museum spokesman Yuri Bogatenkov has emphatically denied that this had anything to do with the phenomenon.
"We spoke to all our specialists in electronics and wiring, who said unanimously that it was impossible to have it opening by itself," he said. "Yet it happened."
"Right after it happened I queried what could it possibly be, and there is no answer so far."
You can check out the footage below - the dome begins to lift at around five seconds in, then again at around 40 seconds in. The video is sped up and covers a period of approximately twelve minutes.
Source: Sputnik International | Comments (17)
Similar stories based on this topic:
Tags: Meteorite