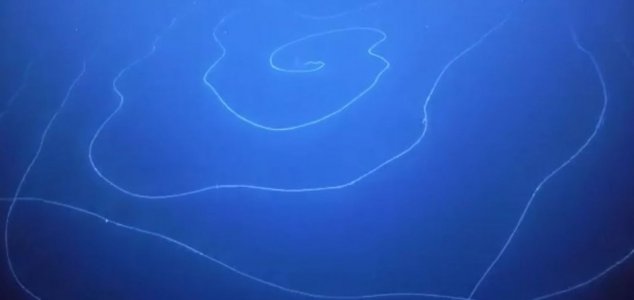 The siphonophore measured 150ft in length.

Image Credit: Twitter / Schmidt Ocean
This huge rope-link organism - the largest of its kind ever recorded - was spotted off the coast of Australia.
Known as Apolemia, this impressive deep-sea creature is a type of siphonophore - a relative of jellyfish and coral that, despite appearing to be a single creature, is actually comprised of billions of individual organisms gathered together to form a single giant organic structure.
It was spotted off the coast of Western Australia using a remote-operated vehicle (ROV) by researchers aboard the RV Falkor - the flagship vessel for the Schmidt Ocean Institute (SCI).
Most siphonophore colonies only measure a few centimeters in length but this one is a whopping 150ft long - making it the largest on record.
Researchers believe that there could also be other, even larger, examples out there.
"Check out this beautiful *giant* siphonophore Apolemia recorded on #NingalooCanyons expedition," the team wrote on Twitter. "It seems likely that this specimen is the largest ever recorded, and in strange UFO-like feeding posture."
Incredibly, colonies like this are predatory in nature, meaning that they feed on other organisms. This one has optimized its potential to catch its prey by spreading itself out like a spiral galaxy.
"I've gone on numerous expeditions and have never, EVER, seen anything like this," said assistant professor Rebecca Helm from the University of North Carolina Asheville.
Source: Tech Times | Comments (4)
Tags: Apolemia