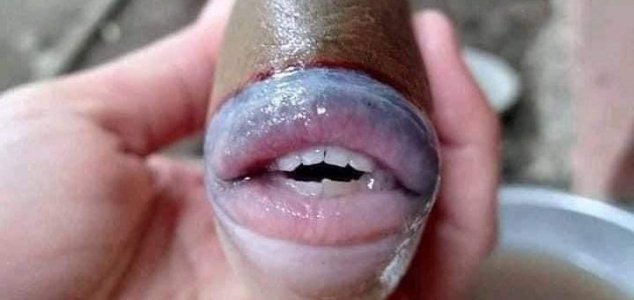 This brings a whole new definition to the term 'fish lips'.

Image Credit: Twitter / @raff_nasir
A photograph of a very strange looking fish with lips and teeth like those of a human has gone viral online.
The peculiar specimen, which was posted up on Twitter earlier this month by user Raff Nasir, is nothing if not bizarre - a multicolored fish with a full set of lips and two rows of human-like chompers.
"Her lips are hotter than mine," Nasir joked.
The photograph quickly generated a great deal of speculation with some users claiming that it had been digitally altered and others maintaining that it was likely to be a real fish.
Many agreed that the most likely candidate was the Picasso triggerfish.
"Upon seeing the red line that runs straight from its snout to its pectoral fins, and the black patch on its belly, I kind of guessed that it was a blackbelly triggerfish," said marine biologist Lufti Afiq Rosli.
Not everything however is quite as it should be.
"The teeth photo seems doctored to me," said Rosli. "Most triggerfish do not have teeth like that."
"Usually, they have a set of two canine teeth on the top and another set at the bottom. These help them catch their prey, which is usually shellfishes on the reef floor."
Source: Mashable | Comments (7)
Similar stories based on this topic:
Tags: Fish