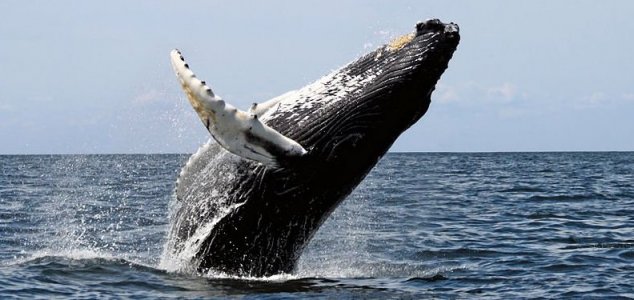 Getting too close to a humpback can prove lethal...

Image Credit: CC BY 3.0 Whit Welles
Two women had been kayaking off the coast of California when they were almost ingested by a humpback whale.
In a scene that wouldn't look out of place in a movie, the two women - Julie McSorley and her friend Liz Cottriel - had been watching whales while kayaking off Avila Beach when a massive humpback whale suddenly rose up out of the water directly beneath them, grabbing their kayak in its mouth.
The spectacle was filmed from multiple angles by their friends who had been situated nearby.
Fortunately both women were thrown into the water and did not end up inside the whale's mouth.
"I thought, 'Oh no! It's too close,'" said McSorley. "All of a sudden, I lifted up, and I was in the water."
"I'm thinking to myself, 'I'm going to push. Like, I'm going to push a whale out of the way!' Cottriel added. "I'm thinking, 'I'm dead. I'm dead.' I thought it was going to land on me."
"Next thing I know, I'm underwater."
The incident emphasizes the importance of keeping a safe distance when out whale-watching.
Source: Huffington Post | Comments (6)
Similar stories based on this topic:
Tags: Whale