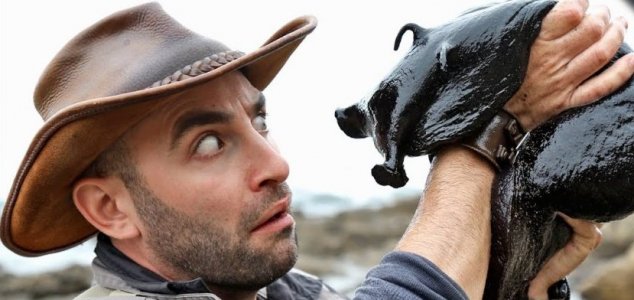 This is one gigantic slug...

Image Credit: YouTube / Brave Wilderness
Sliding around at the bottom of the sea off the coast of California is an aquatic giant like no other.
If you've never seen the California sea hare (or Aplysia vaccaria as it is officially known), then you are certainly not alone. Despite it's large size, this dark-colored underwater mollusc is a rare sight because it only seldom ventures into shallow waters and then only for the purpose of laying its eggs.
Sustaining itself on a diet made up primarily of brown algae, the 'sea hare' is named after the ear-like protrusions found growing out of the top of its head.
To deter predators, it produces a toxin from the algae it eats which then accumulates on its skin.
If you are lucky enough to actually come across one of these creatures in a rock pool or along the shoreline, they are not generally dangerous to humans but it's still best not to pick them up.
You can check out wildlife expert Coyote Peterson encountering one in the video below.
Source: Oddity Central | Comments (6)
Tags: Slug