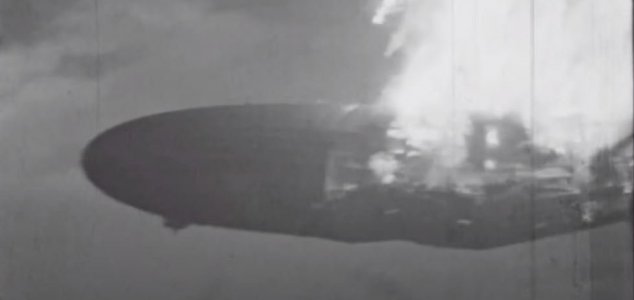 What caused the fire that destroyed the Hindenburg ?

Image Credit: YouTube / NOVA PBS Official
Previously unseen video footage has been helping scientists learn more about the fate of the airship.
One of the 20th Century's most infamous disasters, the destruction of the Hindenburg - a large German passenger airship - occurred following its arrival at Naval Air Station Lakehurst in Manchester Township, New Jersey in May 1937.
The huge hydrogen-filled airship was carrying 97 passengers at the time, of which 37 lost their lives when the vessel inexplicably burst into flames and crashed to the ground, bringing with it any remaining confidence in airship travel in general.
Although it is obvious that the gas inside the ship provided the fuel for the blaze, the exact reason why the airship went up in flames in the first place has remained a topic of debate for decades.
One of the most popular theories suggests that the fire started when the buildup of static electricity on the airship's exterior came into contact with a special type of 'dope' ( a mixture of iron oxide and aluminum-impregnated cellulose ) that had been painted all over the canvas.
It wouldn't have taken much of a fire to set the hydrogen inside burning and for the blaze to consume the whole ship.
Fast-forward to the present day and now new clues have surfaced in the form of previously unseen video footage captured by a bystander who had been standing at a different location to the cameras that recorded the most widely distributed clips.
Thanks to this new angle, experts have been able to learn more about how the fire spread.
The new footage, which can be seen below as well as in the NOVA documentary "
Hindenburg: The New Evidence
", is the most significant new clue about the disaster in years.
"Thanks to this stunning new footage, we were able to revive a cold case investigation surrounding one of the most iconic disasters of the 20th Century," said executive producer Gary Tarpinian.
Source: Live Science | Comments (6)
Tags: Hindenburg