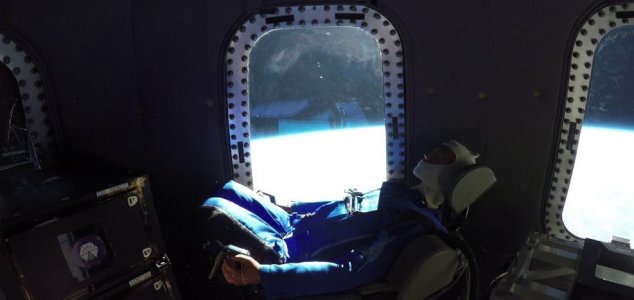 The views will be 'out of this world'...

Image Credit: YouTube / Blue Origin
Bidders are hoping to win a seat aboard the first crewed flight of Blue Origin's New Shepard spacecraft.
How much would you pay for a trip to the edge of space ?
On July 20th of this year - 52 years after the launch of Apollo 11 - Jeff Bezos' Blue Origin will be launching, for the first time, six passengers in its crewed New Shepard suborbital spaceship.
While most of the seats will be reserved for VIPs, one of them is still up for grabs - for a price.
Until June 12th, interested parties have the opportunity to place their bids as part of a live auction that has already seen more than 5,200 bidders from 136 countries.
If you want to get in on the action however you'll need some pretty big pockets - the current highest bid is $2.8 million and there is no sign that things will slow down anytime soon.
When New Shephard does take flight it will offer passengers spectacular views of the curvature of the Earth from far, far above as well as an ascent and descent that they will be unlikely to forget.
Blue Origin is competing with Richard Branson's Virgin Galactic in the space tourism sector, with both companies offering suborbital trips for a relatively low (albeit still expensive) sum.
As things stand, it looks as though Blue Origin is poised to get there first.
Source: Geek Wire | Comments (2)
Similar stories based on this topic:
Tags: Blue Origin